eSigner is a cloud signing service that allows users like you to attach secure digital signatures to your documents from any part of the world. These documents include PDF copies of important files like contracts and transaction records.
After the end of our Beta program for eSigner on September 1st 2021, eSigner is now offered as a paid service available to all Document Signing and EV Code Signing customers. Visit this page to find out the pricing options for eSigner subscription plans.
Currently, the eSigner subscription has to be manually removed from your order. If you wish to do so, please follow the steps in the following sections.
Users can now automate EV Code Signing with Signtool.exe or Certutil.exe using eSigner CKA (Cloud Key Adapter). Click below for more info.
Select the Order You Want to Change
Login to your SSL.com customer account, Click the Orders tab on the Menu and choose the particular order that you want to revoke the eSigner subscription for.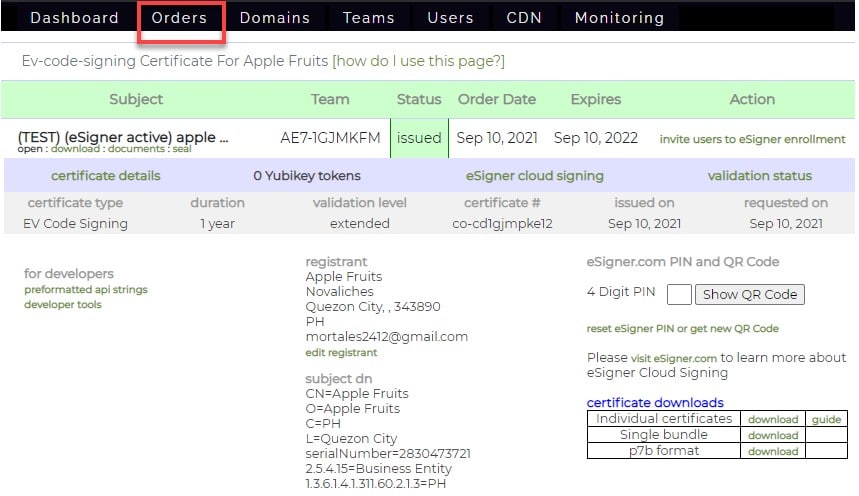 You will know that your order still has an active eSigner subscription if the words "eSigner active" can be found before your company name and the word "issued" is shown under the Status column.

Located below your company name is the download link. Click this to show the details of your order.

Click the REVOKE link
After clicking the download link, scroll down the page and locate the section that says "eSigner Code Signing Certificate" and several rows below it, you will find the REVOKE link colored in green with an X mark beside it. Clicking this link will revoke your eSigner subscription.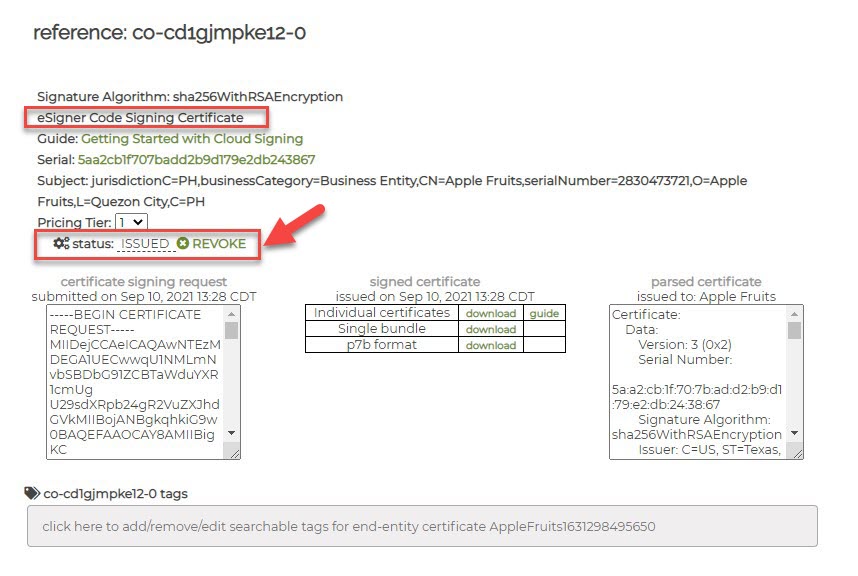 Refresh the page and check for the revoked status of eSigner
After clicking REVOKE and refreshing the page, at the top of the page you should be able to see the word "revoked" under the Status column. Also, there will no longer be the words "eSigner active" beside your company name. 

If you scroll down the page again to the section saying eSigner Code Signing Certificate, you should see the status showing "REVOKED" and the date when you actioned it.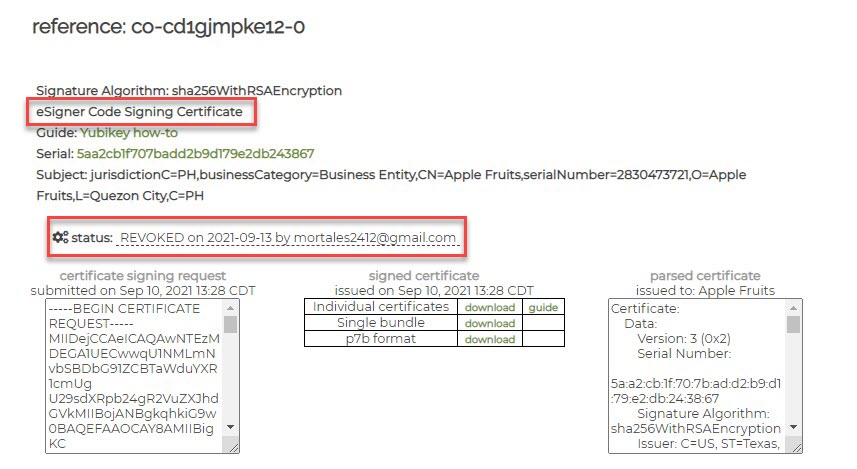 We hope this guide has been able to help you. Get more information about the new eSigner Cloud Signing Platform by visiting https://www.stg.ssl.com/esigner/.
If you have any questions about the eSigner Cloud Signing Platform, feel free to contact SSL.com by emailing support@stg.ssl.com or calling 1-877-775-7328 (US) or +1-775-237-8434 (International). You may also chat with SSL.com's friendly support staff at any time by visiting SSL.com.