High Functionality At a Low Price
SSL.com's Premium Certificate is tailored to meet the needs of smaller businesses! Each Premium Certificate comes with three subdomains for more flexibility and functionality! And Premium Certificates from SSL.com support Microsoft Exchange's Autodiscover service to simplify client administration!
As an SSL.com customer, you now have the option to enroll your order for expedited processing and shipping. For only $499, this service allows your order to be prioritized at the top of the queue for review and issuance and shipped through the fastest available method. Head over to

this page

to read the instructions on how you can place your order for expedited processing and shipping.
Whether you are a new entrepreneur or an established organization, the Basic SSL Certificate from SSL.com is the intelligent and affordable way to protect your internet data.
Increase Customer Confidence with a free Site Seal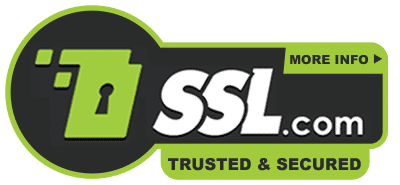 The presence of the SSL.com Site Seal will help indicate to visitors that a website is secure and trusted. Increase visitor to customer conversion and retention.
Cover 3 Subdomains With One SSL Certificate
Their support is excellent
Jeremy
Network Administrator
SSL.com are true pros! I was very impressed by the ease of the purchase process, and the quick (minutes) issuance of our certificate. Tech support agent TomZ was outstanding, and was there the entire step of the way to assist with installation. SSL.com provides great KB articles to assist you with installation too. I will recommend them to anyone!
Christian Cardin
on Premium SSL
They answered a question no other CA could answer. We truly recommend their expertise!
Gere Hanley
on Premium SSL
We have a specific need that requires 3 subdomains, so we didn't need the more expensive wildcard but the basic ssl only covers a single subdomain. Enter premium ssl, works perfectly out of the box 🙂
Wendy Truett
on Premium SSL
Based on recommendation from ssl.com staff, we only 3 subdomains and this ssl was exactly what did the job.
Very helpful and knowledgable staff. Highly recommend!
SSL.com issued this cert in record time. It's trusted by our mobile browsers which for some reason we couldn't another provider's ssl to do.